Sure, read the last post and see what kind of running I've been doing lately. HOWEVER, whilst busy not running, today (!) I passed a runner's milestone (somehow). Behold the evidence: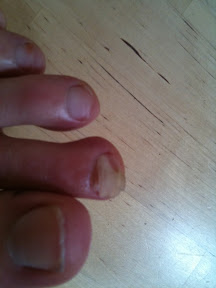 THAT is my Morton's toe, and that would be the toenail separating itself, for no apparent reason, from the nailbed. Yes, folks, I am on my way to the true distance runner sign, ugly-ass feet.
How this happened when I haven't been running a lot, I dunno, but there it is. 10% off my next pedicure??